by Dwayne Phillips
Today we walked through Toms Brook, Maurertown, Woodstock, and Edinburg, Virginia. We covered 16.5 miles (a new record). The weather was 55 degrees F in the morning and in the high 70s in the afternoon. Great weather.
These are all "main street" towns in that Highway 11 becomes Main Street as it passes through. Toms Brook is a nice place, typical of most on the highway. I put a photo of the St Peters Lutheran Church in the Wikipedia page for Toms Brook. In case you wonder why I usually have a photo of a church in these towns, the answer is simple. The old churches in these places are the most notable landmark. They are often one of the older buildings in town and almost always one of the better maintained buildings.
Maurertown is so small that it doesn't even have a page in Wikipedia. I don't have much to write about Maurertown except that it was on the highway and we walked through it.
We spent about an hour and a half passing through Woodstock. We stopped for coffee at the Woodstock Cafe and Shoppes in historic downtown. All these towns have a "historic downtown" in them. We were almost run over by a small construction tractor in Woodstock. They have literally destroyed a section of Main Street in front of the courthouse (hence no photo of the historic county courthouse) and this coffee and sundries shop is across the street (get the lawyers on their way out of court). Here is a photo of the Woodstock Cafe and Shoppes.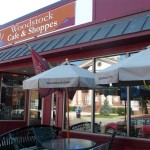 I put a copy of this photo in the Wikipedia page for Woodstock. Maybe I could write to the owners of the shop and get a refund for the cup of coffee I bought in exhange for…
We ate our lunch in front of the football stadium of the Massanutten Military Academy. Karen asked if I wanted to take a photo of this place, but I shrugged it off. It is really famous (Tom Cruise once shot a movie here when he was young enough to play a psycopath in a high school in a military academy), so surely there were photos of it everywhere. I was wrong.
An hour's walk down the road we passed through Edinburg. There were several small coffee and tea shops in town, but we passed on them and instead drove to a Subway sandwich place closer to I-81. We sat, drank a root beer, and ate a Twix Ice Cream bar. Sometimes you pass on the culture in favor of better air conditioning and a bench that you can stretch your feet on. I put a photo of the Edinburg Mill in Edinburg's Wikipedia page.
The highlight of Edinburg was the countryside south of town. This is the definition of Shenandoah farm land. Jimmy Stewart made a movie here once. All kidding aside, this is beautiful. It is one of the rare places so far that has a view of both walls of the Shenandoah Valley as well as of the Shenandoah River.
The Curse of the Golden Mile? Okay, years ago in Louisiana, we called the mile or so stretch of road between a town and the Interstate Highway (if you had an exit at your town) as the Golden Mile. Businesses sprang from the farm land. Everything is a national chain (McDonald's, Exxon, Wendy's, BP). This stretch of road becomes the new center of town.
In one way, the Golden Mile is a blessing. Local people find jobs here. People from out of town exit the Interstate and leave their money in your town. That is a good thing for the economics of the town.
The curse of the Golden Mile is that the economic prosperity brings houses and such popping out of the ground all along the traditional highway – like highway 11. Woodstock is cursed by its Golden Mile. What was once a nice little town, now stretches for five miles up and down highway 11. It is awful to walk through it.
I view this as a tourist, not a local. Some of the locals will gladly take the blight as long as their children get local jobs and don't move away.
And Woodstock has the Double Curse of the Golden Mile – a Wal Mart SuperCenter that is open 24 hours a day. As we were walking through Woodstock Karen asked, "Where do these people buy groceries?" Simple, at the Wal Mart SuperCenter. That is where they buy almost everything except services.
As you can tell, I am conflicted on this one. I am all for free markets, and I love the Main Street in a small town. Some of the towns on Highway 11 have balanced this well (Stephens City and Middletown, Virginia are two examples). Woodstock's attempt – not to my liking.
And my feet are killing me tonight. I may have to buy a completely different type of shoe.