by Dwayne Phillips
Today we walked from the southern edge of Bristol through Piney Flats and into Johnson City, Tennessee. We walked 17 miles. The skies were overcast all day. It was windy, and the temperatures ranged from 60 to 75 degrees F.
There were two interesting objects near Bristol. First is this Drive-In Movie Theatre. It doesn't have a name, but as you can see is closed until spring. It is in excellent condition.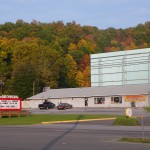 I am surprised at the number of drive ins I have seen. I thought all these went away twenty years ago.
The next site is of course the Bristol Motor Speedway. I believe this is the largest man-made structure we have seen so far.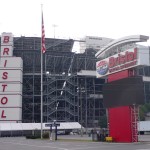 The rest of today's walk was rather uneventful. Route 11 (11E to be exact) here is a four-lane divided highway with a large median and wide shoulders. Walking here is the closest thing to walking on an Interstate highway there is. The constant traffic causes a constant wind. The noise is awful. It made for a miserable walking experience. This is the first day of the walk that I write such – that the conditions were miserable. We have had several days of foggy and misty rain, but this was worse. The wind and noise wore on me.
Here is a sign of increasing wealth: the mobile home sales businesses were replaced by RV (recreational vehicle) sales businesses as we approached Johnson City. The RVs cost more than the complete mobile homes.
The area between Bristol and Johnson City surprised me in that it was mostly rural. Maybe it is the size of the highway here, but the homes are spread more than when Route 11 was a two-lane road in Virginia. I'll have to keep watch on this.
Piney Flats has a great name. It actually has a little page on Wikipedia as well. It is a cluster of fast food places, several shopping centers, and two traffic lights just north of Johnson City. We bought coffee and a sandwich at the Burger King. They have this wonderful elderly woman walking about wiping the tables and replacing the napkins in the napkin holders on the tables. I liked seeing that. I guess she is in her 70s, and she doesn't move too fast, but she is working.
We haven't seen much of Johnson City yet. We are on the northern edge near Interstate 26. Just Golden Mile junk so far. Maybe something interesting tomorrow.
I lost my car key. We called around and will have to go to a Chevy dealership first thing in the morning. The keys have smart chips in them, so you can't have a key made just anywhere. When did they start that? Who thought that would be a good idea?
We crossed the Holston River and part of Boone Lake on today's walk. The water level is very low for both places. They both have fabulous $$$$ waterfront homes. These poor rich people, however, cannot put their boats in the water from their boat houses. If they tried, they would drop their boats on rocks. Where did the water go? Is Eastern Tennessee having a drought?
Last thing, I thought I was walking all day on a flat shoulder. It sure looked flat. Ten miles into the day my ankles and feet informed me that despite appearances, I was walking on a right-to-left slope. Ankles and feet don't lie.