by Dwayne Phillips
Today we walked the 15 miles that brought us into Greeneville, Tennessee. It was a chilly 45 degrees F this morning and later in the day, well I am not sure about the temperature later in the day. It changed drastically minute by minute.
Route 11E in this part of Tennessee bypasses most of the towns. It is like an Interstate with businesses and houses on it. The road doesn't go through towns. We passed near Limestone and Chuckey (what a great name), Tennessee.
We passed by Tusculum, but we walked off Route 11E for 1.5 miles so we could go through Tusculum.
Tusculum is the home of Tusculum College. This college was formed in 1794. It is the oldest college in Tennessee and the oldest college in America "west of the mountains" (the Allegheny or Appalachian mountains that is). These are the same claims made by nearby Washington College Academy. I don't know which is technically true, but since Tusculum College was formed by the son of the man who formed Washington, I have to go with Washington.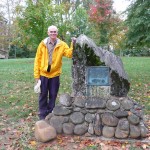 Here am I standing next to a historical marker at the college. Like several of the other older colleges we have visited, this is absolutely beautiful. Colleges are supposed to look just like this place. Big, shady oak trees. Big red-brick buildings with columns in the front and grand stairs leading to big doors.
We are staying at a motel in Greeneville. I think we are in Greeneville. Route 11E sort of by passes Greeneville as well. There is a Super Wal-Mart on the road along with fast food places, car dealerships, shopping centers, and you know, the usual Golden Mile type of thing. Traffic is surprisingly heavy here for a city of 15,000 people.
The weather today? It was sunny and 45 degrees when we started walking at 8:30 AM. I was cold, but warmed myself my walking fast and holding my arms across my chest. The rest of the day clouds came in the area and the sun went in and out, in and out, in and out. When the sun was shining, it was 55 degrees and pull off the wind breaker time. Then the sun was blocked by clouds and it was put the jacket back on and zip it up time. This hot and cold cycle happened a dozen times. Not a bad problem to have, but a nuisance.
I was able to have a better view of the east Tennessee countryside. Good rolling farmland with big barns. I saw tobacco hanging in a lot of the barns.
I was treated to a rolling auto show in the morning. There were about a dozen cars and trucks in a group on the road. Several were "hot rod" custom jobs while the rest were restored cars from the 1940s and 1950s. The trouble with such sights is that I cannot pull my camera from backpack fast enough to take a photo.
It is obvious that we are in Tennessee and not Virginia. The name "Robert E. Lee" has disappeared and been replaced with "Andrew Johnson."