by Dwayne Phillips
It seems strange to be away from home on Halloween, let alone doing what we are doing. No one will come to our motel door and ask for candy.  Anyways, we walked through Athens, Riceville, Calhoun, and Charleston, Tennessee. We covered 18 miles in good weather. A little chilly at 35 degrees F to start, but it warmed quickly.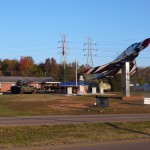 Route 11 passes between the city of Athens and Interstate 75. It is a four-lane divided highway through here. We really didn't see anything of Athens. We saw the basic tractor dealers, car dealers, fast food, Wal-Mart, a big high school, and so on. I did get this photo of the VFW on Route 11. They have an airframe of an F-4 fighter plane, I believe that is an M-60 tank, and I cannot recall the name of the armored vehicle. Someone help me with that. Great static display for a VFW.
If you can read the sign in front of the VFW you will notice a turkey shoot advertised. I have seen half a dozen such shoots advertised this week. Let me explain – they are not actually shooting a turkey. This is a traditional fund raiser (traditional in the south at least) as Thanksgiving nears. You pay a dollar or three, use the firearm supplied by the organizer (usually a 22 rifle), and shoot at a paper target. The best target wins a frozen turkey from the grocery store. It works quite well and is a lot of fun to do.
A highlight of the morning was the cup of Community Coffee I bought at a gas station on the south edge of Athens. Good stuff, and less than a dollar.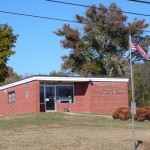 Route 11 remains a four-lane divided highway through the countryside until it reaches the town of Riceville. Riceville is so small that it doesn't have a page on Wikipedia. There are two gas stations and a U.S. Post Office there. Several of the letters have fallen from the front of the Post Office. Here is a photo. Riceville looks like a town in an economic depression. We ate lunch sitting in a parking lot of a closed bank. How does a bank close these days? Riceville is probably best known as the place where Route 11 goes back to two lanes.
Most of the rest of the day was spent walking through rural areas. There are plenty of nice farms and several recent housing developments along the road. The houses are surprisingly opulent.
The day ended at the twin towns of Calhoun and Charleston. There is a very large factory at Calhoun owned by Abitibi Bowater. This is one of the largest news print mills in North America. Everyone in these two towns works at the mill or sells stuff to people working at the mill. The economy in these towns appears good.
We didn't see anything of Calhoun except a Hardee's and a couple of small nick nack stores. I guess the town is off of Route 11.
We crossed the Hiwassee River (pretty wide and the bridge is pretty big) into Charleston. Charleston seems much bigger than Calhoun. Maybe all of Charleston is on Route 11. There was no main downtown area, but half a dozen stores, three national fast food places, a school, and even a mile of sidewalk.
These are two nice little towns. The Wikipedia pages for Calhoun and Charleston have photos of the towns.