by Dwayne Phillips
Today we walked by Ooltewah and through Chattanooga, Tennessee. Another fine day with temperatures from 45 to 75 degrees F. Sunny and calm.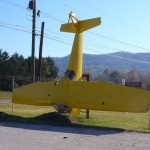 This airplane is posed nose down in front of a salvage yard in Ooltewah. Kind of neat. There isn't much else to say about Ooltewah as Route 11 sort of passes it by.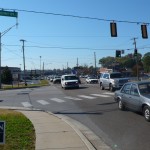 Chattanooga, well it is a big city. Route 11 passes through it as a four-lane road. It is basically all golden mile stuff that looks like this and this. Major parts of Winchester, Harrisonburg, Bristol, Konxville, and such look exactly the same. The only differences are the license plates on the cars. Boring. Walking through such traffic is noisy, windy, and sometimes dusty.
But anyways, this is about an 1,100-mile walk. Chattanooga is about 550 miles out from home. Hence, half way. My goal was to walk a third of the way by November 1st, so we are ahead of schedule. It is helpful to have a support car with you as it allows you to walk 18 miles a day as a routine. I had thought that 10- and 12-mile days would be the norm.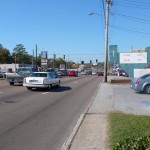 One interesting thing in Chattanooga is the Missionary Ridge Tunnel. If you look closely down the right tunnel, you can see out the other side. This is about a quarter mile long.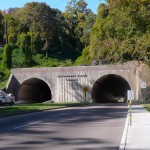 When we finally exited the south side of Chattanooga we walked past this. It is the International Towing and Recovery Hall of Fame and Museum. Long name, strange, but a great sculpture out front.
Georgia looms on the horizon.