by Dwayne Phillips
Another 18-mile day today. I walked through Springville, Alabama. I think I walked through the communities of Whitney and Pleasant Hill given the names on buildings, but I am not sure those places exist.
The weather was one of the big items of the day. The weather changed – at 7AM it was 50 degrees. I had to wear my jacket for the first two hours. Great! At the end of the day we reached the high 70s. Not a cloud in the sky all day.
I have worked an office job since the summer of 1980. Working indoors makes you a little immune to the weather. Being outside eight hours a day allows you or forces you to notice any change. Today's change was major in the positive direction. Everything looked better today. The road, the homes, the cars, and even the dogs that chased me down the road. They all looked better.
To make the day even better, the first store I stopped in for coffee served Community Coffee (from Louisiana).
Then I say this pond. Someone has a lot of fun. They installed a diving board and a slide on their pond. I have never seen a diving board and a slide on a pond – a pool yes, but not a pond.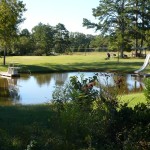 Next down the road was the Pleasant Hill Volunteer Fire Department. Pleasant Hill – I can't find it on a map – has a page on Wikipedia. I put a photo of the Volunteer Fire Department building on that page. They have five fire engines in their little department – FIVE. The Fifth is a classic old International Harvester truck. Here is a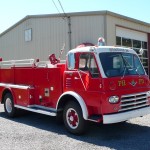 close up shot of that truck. Classic and in great condition.
Across the road for the fire truck was this sign for the Big Oak Girls' Ranch. It is a big sign, and a road goes under it up over the hill out of sight. There were a few horses in the pasture by route 11. I looked for the ranch on the Internet and found this site. It sounds like a fine institution and an excellent work. Many commendations to those supporting and working here.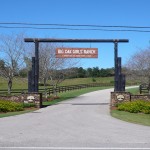 Springville is a nice small town. Its Wikipedia page already has a photo of its downtown. Route 11 runs through downtown. There are a few restaurants, a town hall and police station, school, and a nice public library. I like towns where the school is on the main street. It shows how important the people feel their school is. I ate lunch at the Springville Cafe. There are nice people there.
One final note for the day:
Beware people cutting the grass on a windy day during a dry week.
Today was such a day in such a week. Little bits of grass dust fly great distances at high velocity. They wreak havoc on the eyes.