by Dwayne Phillips
Good weather continued today. Bad traffic darkened it and cut my miles to 15. I started walking at the south end of Springville, walked through Argo and Trussville, and entered Birmingham.
The day started at 50 degrees with clear skies (it ended in the high 70s). I began at the edge of Springville and trudged two miles through traffic. "Heavy" traffic is a relative term. Route 11 was narrow with no shoulders, and everyone in the area was either driving to school or driving to town to access I-59. The grass on the side of the road was long and wet with dew. Tough going.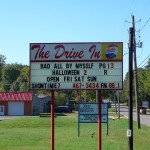 Next was the town of Argo. Traffic thinned, good coffee and chocolate cake at Denise's Country Diner, and a surprise – a movie Drive In – the first in Alabama. Here are two photos. The first is the sign on Route 11. By the names of the movies, it appears that this place is open and operating now. Next is the refreshment and projection building. The screen isn't real big, but this is an outdoor drive in. Great.
I put a photo of Argo's town hall and fire department on the Wikipedia page for Argo.
The next town was Trussville – a northern suburb of Birmingham. Route 11 is a four-lane road here running through a series of shopping centers. Maybe it was the good weather, maybe it was the time of day (early afternoon), but traffic was really heavy. It would be nice if there was a sidewalk anywhere along the way. I guess sidewalks cost too much for the little use they would have.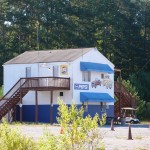 So, I resorted to what I call hopping through the parking lots. Instead of dodging cars on the edge of the road, I walk through the parking lots of the shopping centers. Two things about this. One, the temperature falls about ten degrees in the parking lots from the roadside. It is hard to imagine the amount of heat coming from all the vehicles. Go there, be there, feel the heat. Two, hopping from parking lot to parking lot isn't much fun. You have to watch all the shoppers backing out of parking places and rushing to the exits. And there are a lot of curbs to step over.
I put a photo of the Trussville Municipal Building on its Wikipedia page. The photo isn't very good as the building front is covered with scaffolding. Well, it is a photo of something other than traffic.